COURT YARD HOUNDS with STRIKING MATCHES
THURSDAY, AUGUST 1, 7 P.M. DOORS, 8 P.M.
SHOW

FARGO THEATRE
314 Broadway N., Fargo, ND 58102
Tickets on-sale Friday, June 14 at noon
Reserved seating, ages 21+, $20
Additional fees may apply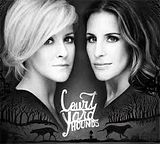 As the mainstays of the Dixie Chicks since they formed the group in 1989, sisters Martie Maguire and Emily Robison have been familiar faces to many millions of fans, yet maintained an element of mystery as "sidewomen" to lead vocalist, Natalie Maines. When
Maines
took an indefinite hiatus from the group shortly after they had been awarded five Grammys in 2007, Chicks fans couldn't help but wonder if Emily and Martie would ever come out from hiding in plain sight. Less than three years later, the sisters released their "very personal" debut featuring Robison on lead vocals. "See You In The Spring," a duet with Jakob Dylan of The Wallflowers, is a highlight on the 12-track self-titled album. The duo is set to release their sophomore album, "Amelita," on July 16 via Colombia Records.

The sound is similar to Dixie Chicks' far-reaching country-pop, perhaps a bit softer and sweeter as Robison winds up giving the group its own introspective identity. Is this band a side project? They can live with that label. Or something permanent? Yes, that too.

Robison and Maguire could no sooner take an indefinite vacation from music than they could from being related. The Chicks haven't disbanded, but Court Yard Hounds is no mere time-marker of a project. When fans see Maguire and Robison from now on, whether they're at side or center stage, it'll be with a greater sense of the individual personalities of the sisters who've seemed ubiquitous, yet just a little elusive for so many years. Their easy smiles and rapport with fans from the front rows to the rafters have gotten them pegged as "the friendly ones," but the material on Court Yard Hounds proves them as complex as they are approachable.

Tickets are available at

JadePresents.com

, at the Tickets300 box office (300 Broadway, Fargo; open Monday-Friday,
to
), or by calling

(866) 300-8300

.